Did you know?
The American National Standards Institute, better known as ANSI, and the Canadian Standards Association, better known as the CSA Group, oversees the development of consensus standards for products, services, processes, systems and personnel in the United States and Canada.
ANSI Z21.69/CSA 6.16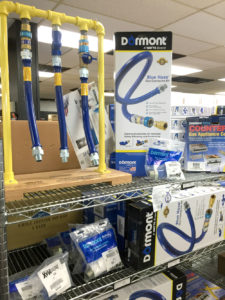 ANSI Z21.69/CSA 6.16 is the applicable standard for connectors for moveable gas appliances. Moveable gas appliances include virtually all gas appliances, 10 burner ranges and double stack convection ovens down to a 24″ charbroiler and all points in between. Each of these pieces has a gas connection hose to supply gas to the equipment. For equipment that is on casters, a restraining cable is required to connect the appliance to the wall preventing the equipment from being pulled away and the gas connection hose being damaged or torn loose resulting in gas leaking into your kitchen.
One part of the ANSI/CSA standard that is likely not well known is that the connector is for use on the original equipment at the original location only. You are NOT allowed to reuse the connector when an appliance is being replaced or moved to a different location. Moving the appliance within the same kitchen footprint is acceptable for using the same connector. So each time you buy a new piece of gas cooking equipment you need to purchase a new gas connector to be in compliance with the ANSI/CSA standard.
Curtis Restaurant Supply has a wide variety of Dormont® Blue Hose® gas connectors, ranging from the hose only to a full installation kit in a variety of lengths and diameters. Our knowledgeable consultants will be happy to work with you to get the proper gas connector kit for your application so you can be in compliance with the ANSI/CSA standards and be protecting your establishment and your customers.
NFPA Codes 17A (5.6.4) and 96 (12.1.2.3)
The National Fire Protection Association, or NFPA, is a United States trade association that creates and maintains private, copyrighted standards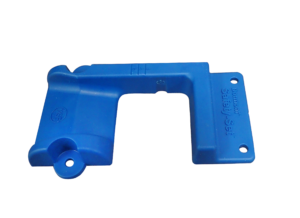 and codes for usage and adoption by local governments.
NFPA Codes 17A (5.6.4) and 96 (12.1.2.3) require that a means be present to ensure cooking equipment is always positioned in its design specified location in relation to the fire suppression and ventilation systems during cooking operations.
What in the world does that mean? Your fire suppression system that is built into your hood was designed for the specific pieces of equipment you indicated were under your hood and where they were to be placed. The nozzles that will spray when activated are configured and arranged to maximize the coverage over your equipment. As the equipment is moved around during cleaning, the probability of getting them correctly back into the proper place is left to chance. In the event of a fire, if the nozzles are out of alignment relative to the equipment it could cause catastrophic damage to your restaurant. Returning the equipment back to its proper place does not have to be left to chance. Using a Dormont® Safety-Set® wheel positioning system allows precise and consistent equipment placement under the fire suppression and ventilation systems.