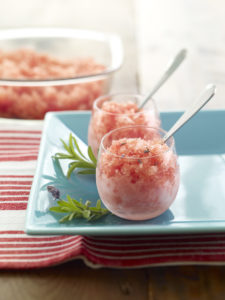 Which fruit exemplifies summer? Watermelon, of course. In Oklahoma, watermelon is plentiful and available at your local grocery store or farmers market, or it can be grown in your own backyard. The following recipes are a new twist on this refreshing summer favorite.
Watermelon-Lavender Sorbet
What better way to get a full serving of fruit than in this delicious sorbet. The watermelon adds vitamin A, vitamin C, and lots of lycopene. It also contains magnesium and potassium. The lavender gives it a hint of springtime. This recipe is from Elizabeth Somer, author of Eat Your Way to Happiness.
Ingredients:
4 ½ cups pureed watermelon pulp (divided)
½ cup sugar (or part Splenda)
1 tablespoon lavender flowers, leaves (culinary type)
1 teaspoon salt (or to taste)
1 tablespoon lemon juice
2 tablespoons of vodka (watermelon or citrus flavors work well. Vodka helps to prevent sorbet from setting up too firm.)
Directions:
1. In a small saucepan over medium high heat, add ½ cup watermelon pulp, sugar, lavender and salt. Bring to a slow boil, then simmer for 5 minutes. Remove from heat and cover for 10 minutes.
2. Place strainer over a large bowl and pour syrup mixture through, straining out lavender flowers. Add remaining 4 cups watermelon, lemon juice and vodka. Stir until blended.
3. Pour into container, cover, place in freezer. When semi-solid, mash up sorbet with a fork and freeze again. When frozen, place sorbet mixture into a blender or food processor and process until smooth. Scoop desired amount into a small bowl or parfait dish, garnish with a small wedge of watermelon and a lavender sprig.
Makes 4 servings.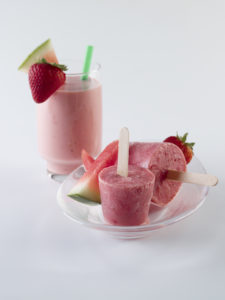 Watermelon Strawberry Shake
Ingredients:
1 container (8 ounces) lemon nonfat yogurt
2 cups cubed, seeded watermelon
1 pint fresh strawberries, cleaned and hulled
1 medium banana, peeled and sliced
Instructions:
In blender or food processor, process yogurt, watermelon, strawberries and banana until smooth and frothy. Serve immediately.
Makes 4 servings.
Frozen Smoothie Pops
Ingredients:
Watermelon Strawberry Shake
Small paper cups
Popsicle sticks or small spoons
Instructions:
Pour prepared Watermelon Strawberry Shake into small paper cups. Freeze, inserting popsicle sticks or plastic spoons when mixture is partially frozen. You could also pour the Watermelon Strawberry Shake into an ice cream machine. Set and enjoy!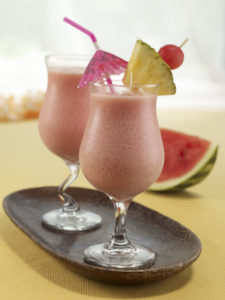 Watermelon Pina Colada
Ingredients:
2 cups watermelon puree
½ cup chunked pineapple
½ cup vanilla yogurt
3 cups ice
2 tbsp. cream of coconut
Directions:
Mix all ingredients together in a blender. Blend until desired consistency and serve.
Makes 4 to 5 cocktails. For an adult version, add rum!
Photography: National Watermelon Promotion Board