The santoku is a general-purpose kitchen knife. It originated in Japan after World War II when the Japanese began eating more beef. It began its cult-like fame in early 2000 when TV chef Rachael Ray announced the santoku was her favorite knife.
The santoku is a great all-around knife. It has a rocking motion which makes it ideal for slicing, dicing, and mincing. The top edge of the blade aligns with the top of the handle for perfect balance. Dexter Russell offers a 7" option at a great price point.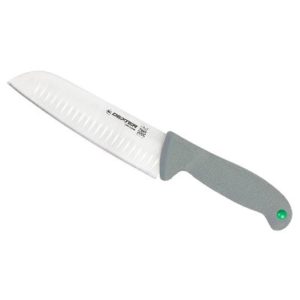 Most of Dexter Russell's santoku knives are equipped with a duo-edge blade allowing the knife to slice through everything it cuts. Santoku blades are shorter, lighter, thinner, and stronger than traditional chef knives. A western chef knife generally slices downward and then rocks the tip forward to complete a cut but the santoku relies more on a single downward cut and even landing from the heel to the tip. This creates less of a rocking motion and more of a straight motion.
It has a comfort texture handle and includes 7 color-coded tabs that can be incorporated into food safety programs. It also has a duo edge blade that helps keep food from adhering to the blade. I use a santoku knife at home and actually prefer it to a chef's knife, although I do use both.
According to Dexter Russell, the SofGrip line is the ultimate choice in non-slip handles. Their soft rubber grip handles reduce stress that may cause fatigue and wrist injuries like carpal tunnel syndrome. Available in black and white, the soft handle allows you to grip tighter to prevent slipping and increase control. Each blade comes with a proprietary DEXSTEEL, stain-free, high-carbon steel blade, with an individually ground and honed edge. Their superior blade shape allows for easier slicing while the unique edge geometry keeps them long lasting. Not to mention, the seal between the blade and the handle will not let in any water or bacteria. NSF Certified. Made in USA.
Superior blade shape for easier slicing
Unique edge geometry for long lasting, easily restored performance
Hand honed to ultimate edge
Impervious seal of blade to handle for utmost sanitation and durability
Protective finger guard (top of handle)
Dexter's trademarked handle texture provides sure grip
Ergonomic, slip-resistant
Proprietary DEXSTEEL blades
I prefer the santoku over other knives because of the comfortable handle and balance. Also, if using it frequently, don't forget to hone and sharpen your knife for best results and longevity.
Contact me at PriceB@CurtisEquipment.com with any questions or click here to purchase Dexter Russell's 7″ santoku knife.