Dear Foodservice Professional,
Congratulations on your venture! Curtis Restaurant Supply would like to help you in any way possible.
Curtis Restaurant Supply offers:
Frequent Shopper Card (for in-store shopping)
Monthly sale flyers
Credit application for volume price discounts
Free local delivery (

Click here

 for details)
Free equipment catalog
Project and bid assistance (Request a quote)
Our Three-part Restaurant Start-Up series includes valuable information for any commercial kitchen. In Part 1, we offer tips that every Chef can use, including the best kitchen tools to use, cooking tips, time savers, cleaning tips, and more.
Curtis Restaurant Supply is here to provide personal assistance in all areas of service and consistently exceed your expectations. Please feel free to contact us with any questions.
Restaurant Start-Up Tips
Kitchen Tools
You can save time and money by using the correct kitchen tools:
▪ Use a wire whip to make smooth gravies and sauces.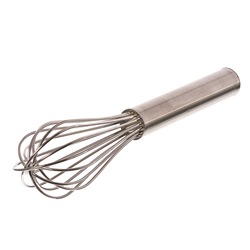 ▪ Eliminate food waste by using a rubber spatula to remove food from a container.
▪ An egg slicer may be used to cut mushrooms, cooked carrots, cooked potatoes, and bananas in addition to hardboiled eggs.
▪ Vegetable dicers and slicers are a good tool to save prep time as well as making more uniform and nicer looking food presentation.
Cooking Tips
▪ Use aluminum foil to make a tight-fitting lid on pans in which food is being cooked in the oven.
▪ Use a 3" pastry brush for greasing pans instead of a small pastry brush to cover more surface area faster.
Time Savers
▪ Cook food in serving pans when possible. It will be more attractive, stay warm for a longer period, and will save dishes, time and labor.
▪ Keep two pans of each food on the serving counter. This will prevent delays in service when the first pan is being emptied.
▪ Use a pastry bag for stuffing eggs, celery, or wieners, for decorating salads, etc.
Cleaning Tips
▪ Clean pastry brushes in hot soapy water.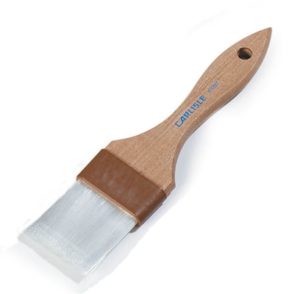 ▪ Soak dishes containing starch, sugar, and eggs in cold water. Soak greasy ones in hot, soapy water. This saves time in cleaning and makes for less dish water changes.
▪ Non-electrical equipment and equipment parts may be effectively and efficiently washed in a dishwasher.
▪ A safe, easy way to gather up small pieces of broken glass is to pat them up with a dampened, absorbent cotton cloth or a dampened paper towel. Dispose of cloth after using to clean up glass as the shards will not come out in the wash.
Measuring and Weighing Tips
Using the correct tools for measuring helps keep your recipe consistent: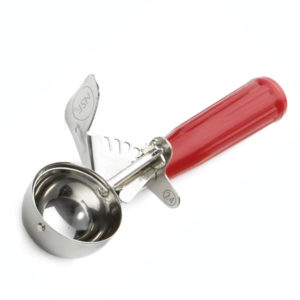 ▪ When the recipe calls for four cups of an ingredient, use the quart measure rather than measuring the one-cup four times, etc.
▪ Measure all dry ingredients first and you then may use the same cup for measuring shortening.
▪ If, in addition to shortening, the recipe calls for molasses, syrup, or honey, measure the shortening first, then the liquids will not stick to the cup.
▪ Use dishers for filling muffin tins, measuring tins, measuring sandwich fillings, serving mashed potatoes, rice, etc. To assure standardized portions, keep records of the sizes of scoops used.
▪ Disher size refers to number of servings yielded per quart. For example, using a number 12 disher it will take 12 scoops to make a quart.
▪ Ladles and spoodles are sized according to the number of ounces each one will hold.
Knife and Cutting Tips
Select the knife specifically designed for the job to be done:
▪Use a Chef's knife and a cutting board when slicing or chopping foods by hand
▪ Use a slicing knife to slice meat
▪ Utility knives may be used for coring vegetables, peeling, etc
▪ Boning knives are for cutting raw meat.
▪ Always use cutting boards for chopping goods, otherwise you will dull the knife. Use cutting gloves to help protect from cutting fingers.
▪ A stainless-steel knife will hold an edge longer than aluminum.
▪ If a knife starts to fall, watch your feet and step aside, but let it fall.
▪ The only knife that is dangerous is one not kept sharp. Always use a steel to keep an edge on knives.
▪ Cutting through a bundle of celery stalks, carrots, pickles, etc, instead of slicing one piece at a time can save time.
▪ When cutting a cake or scooping ice cream, dip your utensil in hot water to make a smoother cut.
▪ A pair of scissors is a useful item in the kitchen. It will come in handy for cutting such foods as meats and various vegetables for salad. Scissors used in the kitchen should come apart for easy and thorough cleaning.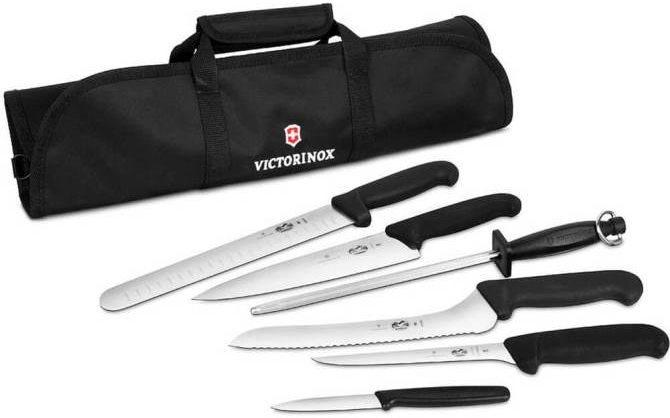 Work Areas
Plan your work and work your plan:
▪ Arrange the work area so you can work without undue stretching or reaching.
▪ Arrange the sequence of your work so there is no break in movement or wasted motion.
▪ Collect all food and utensils needed before beginning your job.
▪ Use trays and dish trucks to carry your supplies.
▪ Correct working table height reduces fatigue and permits an even flow of work.
▪ Learn to do all chopping, cutting, peeling, slicing, etc. on a work surface, not in your hands.
Next up:
Part 2: How-to Guides